Hair Loss and Regrowth After Chemotherapy
Losing your hair during chemotherapy is not easy, but it can be easier to cope with if you have a better idea of what to expect.
Here's what cancer medical professionals and survivors told The Patient Story worked for them.
Contributing perspectives in this resource come from multiple cancer patients as well as Dr. Doug Blayney of Stanford Medical Center.
---
Hair Loss Background
When does hair fall out after chemo and how long does it take to grow back?
This varies person to person. Generally speaking, hair loss caused by chemotherapy happens around two to four weeks after the start of treatment or around the start of your second chemotherapy cycle. Often people may find they start losing their hair in clumps during a shower, while brushing hair, or discover it on their pillow after sleep.
The extent and pace of hair loss depends on a number of treatment factors, such as the type of chemo drug, dosage, frequency of treatments, and how the chemo is administered.
Be sure to ask your doctor and/or nurse about your chemotherapy regimen and whether it's known to cause hair loss.
For the most part, thankfully, chemotherapy does not cause permanent hair loss. In rare cases, however, some higher-dose radiation therapy targeting the head may result in permanent hair loss.
Hair regrowth timelines after chemo vary, but many patients report hair regrowth beginning as early as a couple weeks after treatment, usually starting with thin or fuzzy growth. Full normal hair growth rates may take up to a month or more. For some, the average is hair growth six weeks after chemo.
Will hair look the same when it regrows after chemo?
In some cases hair can carry a different color or texture after regrowth, which may be permanent for some patients. This is often known as "chemo curls" and can affect even people who previously had straight hair before cancer treatment.
Styling & Solutions
When should I cut my hair or shave my head?
This is a very personal decision. Most The Patient Story contributors with longer hair said they wanted to cut their hair to avoid feeling a dramatic loss.
Many shared their fear of seeing large clumps of their hair on their pillows and on the floor; cutting their hair shorter helped them feel lighter and less anxious.
Can cold caps or cooling caps prevent or lessen hair loss?
Cold caps or cooling caps are "devices" that essentially delivers scalp cooling or hypothermia to the scalp to constrict or tighten up blood vessels in the scalp. This is meant to cut down the amount of chemo that reaches the cells in the hair follicles.
They generally look like "helmets" filled with gel coolant and strapped onto the patient's head for a tighter fit.
According to the Journal of the American Medical Association (JAMA) in a February 2017 report, the scalp cooling system did save at least 50-percent of the hair of women who were undergoing chemotherapy for early-stage breast cancer. Here are the key points from that study:
Is scalp cooling associated with a lower risk of hair loss when used by women receiving common adjuvant chemotherapy regimens for early-stage breast cancer?
Findings In this multicenter study, hair loss of 50% or less (Dean score of 0-2) was seen in 66.3% of patients in the scalp cooling group vs 0% of patients in the control group at four weeks after completing non–anthracycline-based adjuvant chemotherapy.
Three of 5 quality-of-life measurements, including feeling less physically attractive, showed benefit for women who received scalp cooling.
Meaning This self-contained cooling system was associated with a lower risk of hair loss among women receiving non–anthracycline-based chemotherapy for early-stage breast cancer.
The Patient Story contributor and breast cancer survivor, Margaret Abe Koga, tried the cold caps. In her post about hair loss, she talks about how the cold caps helped save about 60% of her hair. However, she also described it as "the hardest part" of her chemo treatment.
By the end, by the last cap, I was just wiped out and it's like a brain freeze that entire time and a headache. So that was probably the most painful part.
With that said, Margaret still encourages everyone who's interested in saving at least some of their hair to look into the cold caps or cooling caps as an option, acknowledging also that the technology is advancing to make it more comfortable for patients to wear.
The cost depends on which company you rent from. Margaret reported them to be roughly $1500 during her three-month chemotherapy treatment.
What can I wear on my head when I am bald?
There are so many styling options! Here are just a few favorites of our The Patient Story community:
● Light beanie: keeps head warm, not too hot
● Wig: a good one that fits well can look like your real hair (cons: can be itchy, hot)
● Baseball cap: very comfortable, easy to wear
● Baseball cap with hair attached to sides: this is non-Hodgkin lymphoma survivor Stephanie Chuang's favorite because it's comfortable and can look like your real hair. Your scalp won't be bothered by the cap material which is usually cotton.
● Scarves: nice and light, some are beautifully-patterned so you can be a fashionista while covering up
● Rocking the bald look! Keyla reminds us that you can look absolutely beautiful going out without anything on your head. May sound cliche but all you need is truly your confidence.
What kind of wigs are there?
Construction:
machine-made (pre-custom)
hand-tied (full-custom)
Material:
synthetic (man-made)
human hair
combination of the two
How much do wigs cost and does insurance cover them?
Synthetic wigs tend to be the most popular because they are usually much cheaper (and less required care) than the other two choices. The synthetic styles range from about $25 to a few hundred dollars compared to around $1,000-$3,000 for a human hair wig. Wigs made of both material hit somewhere in between.
Insurance may cover part or all of the cost of the wig, especially if your doctor about writes a prescription for an "extra-cranial prothesis" to submit on an insurance claim.
There are non-profits and organizations out there that help specifically with providing free or partially-cost-covered wigs. Don't forget to check with your own cancer center which may collect donated wigs for patients. Here are some other resources:
American Cancer Society

has different programs available depending on where you are. You may also call 1-800-ACS-2345.

Friends are By Your Side

offers free wigs for people diagnosed with cancer around the world. It also gives styling services and advice.

Lolly's Locks

"works with wig-providers across the country to serve a diverse population of cancer patients because we know cancer has no boundaries. In just four years, we have provided wigs to over 475 women in 47 states."
Other FAQs
Why does chemotherapy cause my hair to fall out?
As Dr. Doug Blayney, a breast cancer specialist at Stanford Medical Center, told The Patient Story:
Chemotherapy damages fast-growing cells. One can predict what the side effects might be. The fast-growing cells in the body may be the cancer cells and that's why we use chemotherapy to damage those fast-growing cells.

The other fast growing cells are in the hair so many chemotherapies cause temporary hair loss because we damage those cells.
Summary: Chemotherapy drugs target rapidly growing cancer cells. Hair follicles have rapidly growing cells.
So hair loss, also called "alopecia," tends to be one of the most significant and noticeable side effects after chemo.
Does every chemotherapy cause hair loss?
Chemotherapy is known to cause hair loss but it depends on a number of factors:
which chemo drug
dosage
frequency of chemo
how the chemo is given
Be sure to ask your doctor and/or nurse about your chemotherapy regimen and whether it's known to cause hair loss.
Does chemo cause eyelashes and other body hair to fall out?
The hair on the head tends to fall out more quickly than the other areas during chemotherapy. However, depending on which cancer treatment you undergo, you may experience hair loss on other parts of your body, including but not limited to:
armpit
leg hair
pubic
eyebrows
eyelashes
arm hair
armpit
For Keyla Scrogham, who was diagnosed with non-Hodgkin lymphoma, the loss of the eyelashes and eyebrows bothered her most:
The hair loss on my face was more difficult because I have always had very thick eyelashes and eyebrows so I didn't enjoy that by any means, but they start to grow back between each cycle so I know they'll come back quickly. It's definitely nice not having to shave my legs though!
Can other cancer treatments cause hair loss?
Radiation therapy that targets the head may lead to hair loss. It's possible depending on the dose of radiation that the hair may grow back differently.
Does it hurt when hair starts to fall out?
Your hair follicles may become "inflamed" from the chemo so depending on how sensitive the scalp is, there may be some pain.
Our The Patient Story contributors have a mixed response, but more than not have described feeling some sensation on their scalp when the hair begins to fall out.
Arielle, who was diagnosed with non-Hodgkin lymphoma, said it hurt when her hair began to fall out in this response:
Your scalp hurts. At least for me it did. It was so painful. So I had very very white-gray hair naturally, now it's a bit darker grown back in, but you could see the red of my scalp and I just wanted it off. It was painful. No one tells you that. In the medical system no one tells you that because it's not "important."

What's important is curing you of cancer but what's important to us as cancer patients, as the person who is dealing with it is to know how to navigate all those pieces of the puzzle.

And to be able to anticipate some of it. This may not happen to you but I wanted to give you a head's up.
How does the hair loss impact you personally?
There was a range of response in terms of how our The Patient Story community members were impacted by the hair loss. Most said they were emotionally drained by the prospect of losing their hair and that anxiety or fear of being bald was because it made them "look sick."
However, they also said they were relieved to shave it all off. For some, it felt like taking back some control in their lives.
Real patient stories of hair loss during chemo
Genoa Martell
Breast Cancer (HER2 Positive, Stage III)
I did not understand my relationship with my hair until I was diagnosed. I think the times I broke down and cried over my diagnosis were triggered because I knew my hair was going.
When did you decide to cut your hair?
I needed to kind of get control back a little bit. All of a sudden you lose your hair after the second chemo. It's almost like clockwork. So it was after the second chemo.
Margaret Abe Koga
Breast Cancer (Invasive Ductal Carcinoma + Ductal Carcinoma In Situ, Stage IIB)
I didn't realize how important my hair was until the idea of losing it all was in front of me. I really didn't think it was going to be a big deal but it was.
You used "Cold Caps" to save your hair. What are they?
I had learned somewhere along the way about these frozen caps that you can rent out and you wear them during chemo treatments. It's supposed to save your hair. (Saved about 60%.)
Oh, hair. I had to let go of hair right away because I had not only my R-EPOCH Round 1 but that double dose of Cytoxan, so the hair just needed to come off. It hurt.
Your hair starting growing back a few weeks after chemo ended. How was that?
It was so amazing when my hair started growing back. I never had super, super short hair. Never buzzed my hair or anything but I thought I looked pretty cute when I had really short hair. I all of a sudden felt this new confidence, maybe like, "Oh, I actually look okay!" It was not a look I had ever intended but it was fun. There was some joy in it.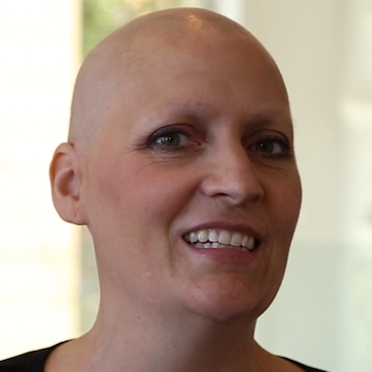 Jodi Smith
Ovarian Cancer (Epithelial, Stage IV)
When it started falling out I had to go to a wedding so we cut it up to my shoulder and still at the wedding, there was just hair everywhere. So when I got back from the wedding I said to my husband okay I'm ready. Let's shave this, let's just do this, it's awful having all this hair all over me.
What helped you feel better emotionally about the hair loss?
I think I finally accepted we're moving forward. So looking at that, the hair came off. We're moving forward. Now it's onto the second round of chemo.
Keyla Scrogham
Non-Hodgkin Lymphoma (Primary Mediastinal, Stage I)
Hair loss on my head wasn't a big deal for me when it happened. It was actually a relief when I shaved it off because my head started to be very tender and burn a little as my hair was falling out.
What helped with the hair loss?
I purchased a wig and also had someone give me one, but I mostly just rock a light beanie or go bald and proud. I've learned that I care much more about how I look than anyone else and I can't even see myself on a regular basis so why dwell on something I can't control?
---
References:
Hair Loss (alopecia). National Cancer Institute. https://www.cancer.gov/about-cancer/treatment/side-effects/hair-loss. Accessed Aug. 9, 2018.
Association Between Use of a Scalp Cooling Device and Alopecia After Chemotherapy for Breast Cancer. Journal of the American Medical Association (JAMA). Accessed Aug. 6, 2018.
What to Do About Hair Loss (alopecia). National Cancer Institute. https://www.cancer.gov/publications/patient-education/radiation-side-effects. Accessed Aug. 10, 2018.
Chemotherapy-Induced Hair Loss (Alopecia). Journal of the American Medical Association (JAMA). https://jamanetwork.com/journals/jamaoncology/fullarticle/2628766
Chemotherapy and Hair Loss. MD Anderson Cancer Center. https://www.mdanderson.org/patients-family/diagnosis-treatment/emotional-physical-effects/hair-loss.html. Accessed Aug. 10, 2018.
Preventing Hair Loss During Chemotherapy is Now Possible, but Insurance Coverage is Inconsistent. https://www.forbes.com/sites/victoriaforster/2018/08/08/preventing-hair-loss-during-chemotherapy-is-now-possible-but-insurance-coverage-is-inconsistent/#47f8e8f77473. Accessed Aug. 10, 2018.
---
Cancer Treatment Side Effect Articles